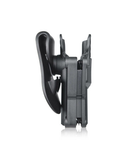 Description
Mega-Fit Holster utilizes the classic Index finger unlocking way to release your handgun, giving you simple and more reliable access. We lower the Thumb-Index web incision for red dot and elevate the Front Sight position for wider compatibility with the foresight-refitted or original full-size and compact semi-automatic pistols. It is also easy to adjust tension by loosening or tightening the four front screws to reach the perfect fit.
It is widely compatible with 150+ popular full size and compact semi-automatic pistols around the world, such as Glock, Ruger, Beretta, etc. It also fits for the original and foresight-refitted pistols.
Upgraded Rhombic Release Button for Better Comfortability and Quick Index Finger Release
This upgraded Mega-Fit holster offers the classic INDEX Finger way to release the handgun, giving you easier and more reliable access. It also effectively reduces the chances of gun moving or falling.
Reliable Locking System
Made of military-grade polymer, the holster is tougher and more durable than similar holsters made of other materials. The internal polishing process reduces frictions between the gun frame and holster.