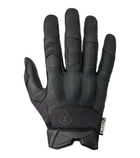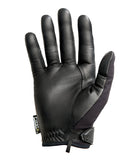 Description
A tactical glove that is both reliable and durable, without giving up the mobility of lighter wear alternatives. Hard, TPR knuckle protection reinforced with neoprene padding and TouchPoint™ fingertip design come together to give you the most complete and functional tactical glove available.
Machine washable goatskin palm for long-term utility
Midweight, snag proof, stretch woven materials for precision fit and professional appearance
Unisex Fit
Isolated, hidden TPR knuckle design allows for independent knuckle splay and rotation, giving you amazing tactility while maintaining solid, reliable protection.
Closed cell, perforated foam offers bacteria resistant ventilation, while keeping your knuckles sufficiently guarded and nimble.
Midweight, snagproof stretch woven material offers the most precise, professional fit and appearance you can expect from your tactical gloves.