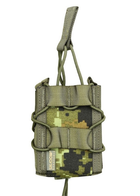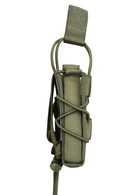 Description
These fully adjustable open-top magazine pouches use hard plastic inserted webbing sides with a Cordura body and adjustable shock-cord retention. These will lock almost any magazine in place, while the open-top design allows for rapid access for quick reloads.
The Single Rapid Magazine Pouch is a versatile multi-purpose magazine pouch which holds a variety of 5.56mm magazines including P-Mags. The Single Rapid Magazine Pouch can also hold 7.62mm x 39mm AK mags, M14, FAL, etc. , and anything in between.
The main pouch can also be adapted to carry flashbangs, radios, beer cans, or other similar sized items. Size adjustment is by way of laced elastic shock cord which is threaded through the side of the pouch.
Features
1000 Denier water and abrasion resistant lightweight ballistic 100% nylon material
High tensile strength nylon webbing
High tensile strength composite nylon thread (stronger than ordinary industry standard nylon thread)
High grade closed cell foam padding material for superior shock protection
Internal seams taped and finished
 All Stress points double stitched, Bar tacked or "X Box" stitched for added strength